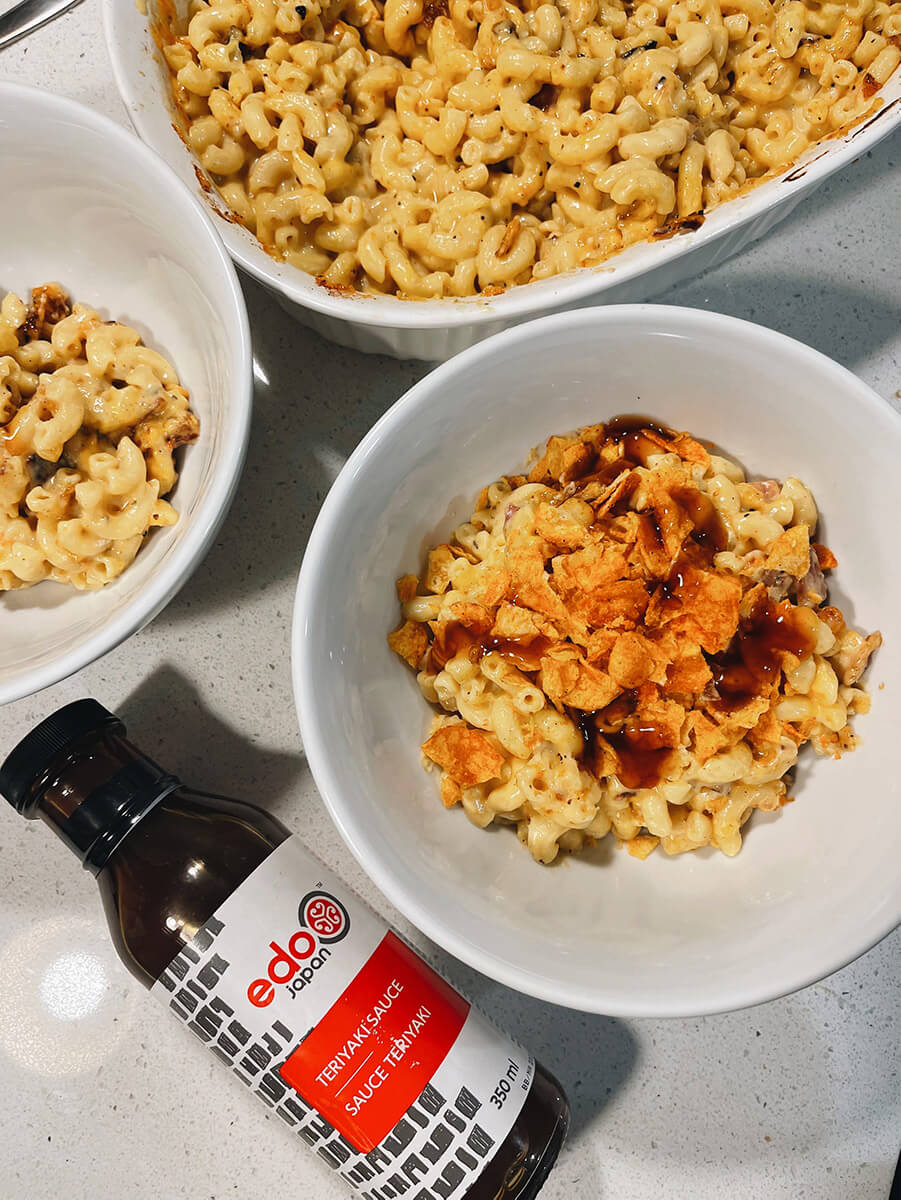 This week we partnered up with @wpgeats to create a delicious recipe using Edo's Signature Teriyaki Sauce. Enjoy these delicious teriyaki mac and cheese!
With the colder weather officially here and long winter nights ahead, one of our go-to comfort meals is our homemade mac and cheese.
For this edition of our mac and cheese we partnered with Edo Japan to create a candied bacon using their famous Teriyaki Sauce to toss into our mac and cheese and it's seriously elevated our favourite dish! We love the bold flavour of Edo Japan's Teriyaki Sauce and the best part is you can pick it up at your local Edo Japan and recreate this recipe at home.
Prep time: 15 Minutes
Cook time: 30 Minutes
Ingredients
Serving size: 4
Candied bacon
⅔ cup Edo Japan Teriyaki Sauce
¼ cup brown sugar
6 strips of bacon
Mac and cheese
1 box of elbow macaroni
1 tbsp extra virgin olive oil
6 tbsp unsalted butter
⅓ cup all purpose flour
3 cups whole milk
1 cup whipping cream
4 cups sharp (old) cheddar cheese
2 cups Gouda cheese
Salt and pepper to taste
Chips flavour of choice (we like All Dressed)
Steps
Candied bacon
Preheat oven to 375º F with one rack on the top third of the oven.
Mix teriyaki sauce with brown sugar until a smooth consistency.
Place bacon strips on a cookie sheet and brush sauce onto bacon. Bake in the oven for 10 minutes
Remove to flip bacon. Brush flipped bacon with sauce and bake in the oven for another 5 minutes or until crispy.
Remove bacon and cut until smaller pieces.
Mac and cheese
Preheat oven to 350º F. Grease a medium sized baking dish. Grate cheeses and combine in a bowl.
Cook pasta to al dente, remove from heat and drain. Drizzle with olive oil and stir to coat.
Melt butter in a deep saucepan.
Whisk in flour over medium heat and continue whisking for about 1 minute until golden.
Whisk in milk and heavy cream intermittently until you see bubbles on the surface. Whisk in salt and pepper.
Add two cups of shredded cheese and whisk until smooth. Add remaining cheese until sauce is smooth and thick.
Stir in cooled pasta and add bacon.
Pour mac and cheese into baking dish. Top with remaining cheese.
Place chips into a ziplock bag and crush. Sprinkle on top of mac and cheese.
Place in the oven and bake for 20 minutes until bubbly and golden brown. Serve immediately and top with teriyaki sauce to taste.