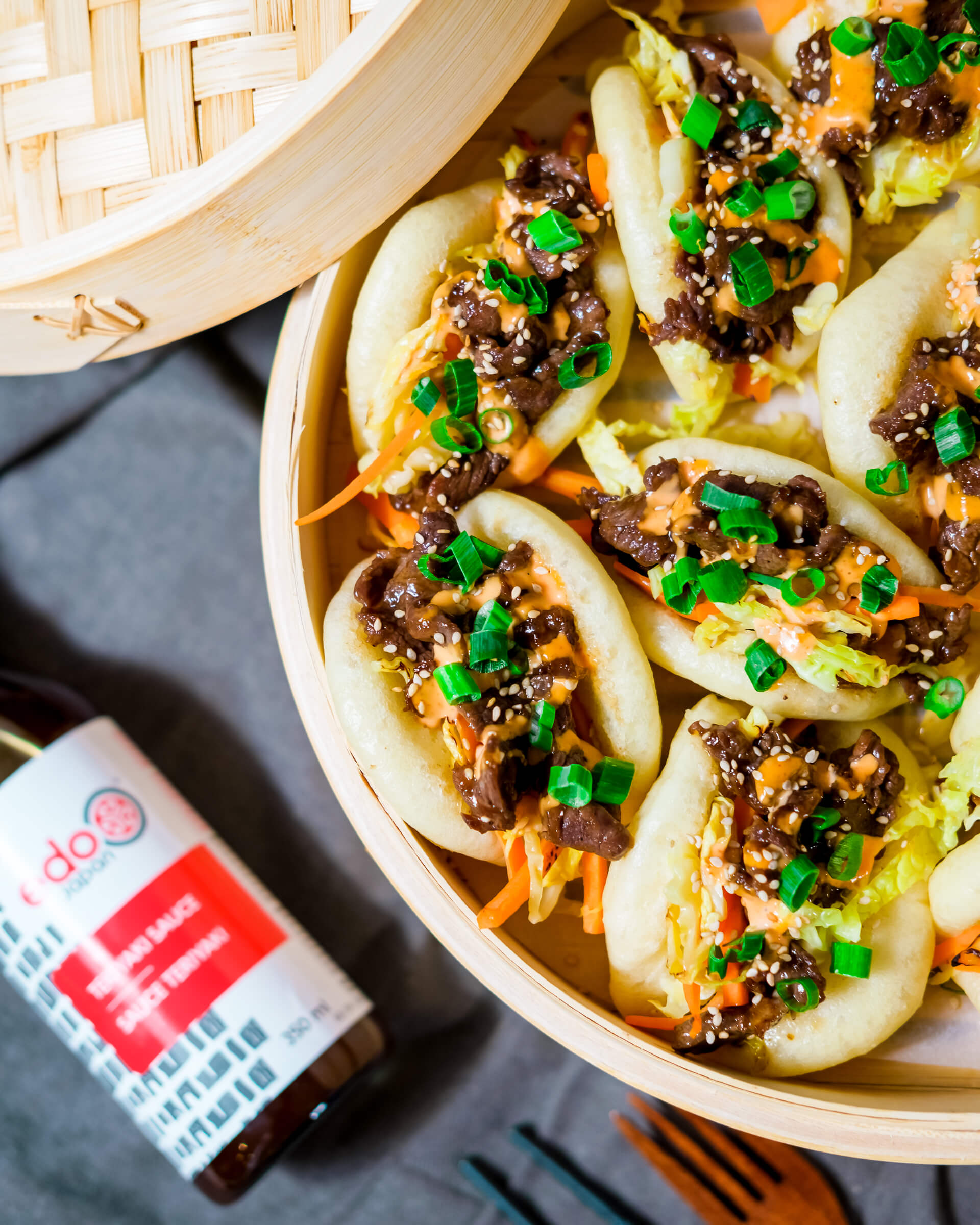 Hi! My name is Neil, and I'm so excited to be back sharing another one of my recipes using Edo's Signature Teriyaki Sauce! It really is the best teriyaki sauce around!
Lately I have been absolutely hooked on making bao buns. So the recipe I am sharing with you today is for Teriyaki Beef Bao Buns. Melt in your mouth tender skirt steak dripping in Edo's Signature Teriyaki Sauce, topped with spicy mayo, green onions, cabbage and carrots. All stuffed into a warm bao bun. I'm getting hungry just talking about it. Enjoy!
Prep time: 2 Hours 30 Minutes
Cook time: 45 Minutes
Ingredients
Serving size: 4
Bao Bun Dough

Bao Bun recipe adapted from Marion's Kitchen

Your local asian grocery store (may also carry frozen ready made bao buns if you do not want to make your own.
375g (3 cups) All-purpose flour
37.5g (3 tbsp) white granulated sugar
1 tsp baking powder
1 tsp instant dry yeast (1.5 tsp active dry yeast)
180ml (3/4 cup) warm water
40ml (3 tbsp) vegetable oil
30ml (2 tbsp) heavy cream (can substitute any milk)
Everything Else
1 bottle of Edo's Signature Teriyaki Sauce
1 cup kewpie mayo
¼ cup sriracha
450g skirt steak (can substitute flank steak)
½ head savoy cabbage (can substitute green cabbage)
2 large carrots
1 bundle of green onions
Toasted sesame seeds
Steps
Bao Bun Dough

Bao Bun recipe adapted from Marion's Kitchen

Your local asian grocery store (may also carry frozen ready made bao buns if you do not want to make your own.
Combine all of your dry ingredients into the bowl of your stand mixer. (375g AP Flour, 37.5g sugar, 1 tsp baking powder, 1 tsp instant dry yeast)
In a separate bowl, combine all of your wet ingredients. (180ml warm water, 40ml vegetable oil, 30ml heavy cream)
While the mixer is running, slowly pour your wet ingredients into your dry ingredients.
Mix on low for 5 minutes, until the dough has formed, and it has cleaned the inside walls of the mixing bowl. The dough should be fairly moist, but you should be able to pick it up without it sticking to your fingers. If it is too dry, add another splash of water, if it is sticking to your fingers, add a tbsp of flour.
Form the dough into a ball, and proof in a covered, oiled bowl for 90 minutes (until the dough has doubled in size).
Oil a large cutting board or work surface, and pull the dough out onto it.
Using a rolling pin, roll the dough out into a large circle that is 1cm thick.
Use a large cookie cutter, or glass (about 3.5" or 9cm in diameter) to cut out circles. It is helpful to rub a little oil onto the bottom of the glass to keep it from sticking to the dough. I press, and then twist a couple of times to ensure I have cut all the way through the dough. Keep your circles close, to maximize the amount you can get out of the dough. Any excess dough can be balled, and rolled out again to get a few extra circles of dough.
Fold each circle of dough in half, lightly pressing with your fingers on the edge. Then using a rolling pin, very lightly roll on top of each half-circle, to make sure it is sealed. Because we are folding the circle in half, and then lightly rolling, we are ensuring the buns will not split open up while steaming, but this seam will easily tear open by hand when we are ready to fill them.
Cut out circles of parchment paper to line your steaming basket. A multi-layered bamboo steaming basket works best as we can steam all of them at the same time. However, any steamer will work!
Gently lift and place the buns onto the parchment paper lined steaming trays. Cover, and proof for an additional 30-45 minutes.
Fill the bottom of a wok (or your steaming pot) with a few inches of water, and bring up to a rolling boil. Turn down the heat just a tiny bit, and place your steaming basket on top. Steam for 12 minutes, until puffed, turn off the stove, but leave the basket to sit for another 5 minutes before lifting the lid and removing from the wok. Serve immediately. Any leftover buns can be brought back to life by microwaving under a wet paper towel for 30-seconds.
Everything Else
Put the skirt steak into the freezer for about 30-minutes. Slightly freezing it will make it so much easier to slice super thin! If you can't find skirt steak you can also use flat-iron, or flank steak.
While the steak is in the freezer, prep all of your veggies, and your spicy mayo (if not bought pre-made)
Peel the outer layer of cabbage, then cut the head in half, and then thinly shred it
Julienne the carrots. Start by peeling your carrots, then cut into 3" sections, then into planks, then into matchsticks. You can also use a julienne peeler.
Combine the cabbage and carrots into one large bowl.
Thinly slice the green onions (keep these separate as we are not cooking them)
Prep your spicy mayo if not using store bought by combining 1 cup Kewpie Mayo and ¼ cup Sriracha. You can adjust the spice level by the amount of Sriracha you include. I generally do not measure this, but instead base it off of the color it turns when mixed! If you have a squeeze bottle you can put this into, it makes it much easier to drizzle on top.
Slice your cold skirt steak across the grain as thinly as you can. This is going to allow us to cook it very quickly, but also make it melt in your mouth!
Sprinkle a couple of pinches of salt on top of the meat once sliced, and toss to mix.
Once the buns are removed from the wok, heat up 2 tbsp vegetable oil in it, and toss the cabbage and carrots in. Toss to coat, and stir fry for 1-2 minutes. Add 2 tbsp water, and cover the wok to steam for 2 minutes.
Remove the veggies from the wok and set aside.
Heat a small amount of oil in the wok, and heat until just starting to smoke. Add in your steak (depending on the size of your wok, you may need to do this in batches to avoid crowding the pan). Stir fry for a couple of minutes until cooked through and then reduce the heat and pour a generous amount of Edo's Signature Teriyaki Sauce on top and stir until every delicious morsel is coated, glistening and the sauce is bubbling. Remove from the heat.
Tear open the bao buns, and fill with some carrots and cabbage, then some steak, then drizzle some spicy mayo, and sprinkle the tops with green onions and toasted sesame seeds.
Edo Your Heart Out!