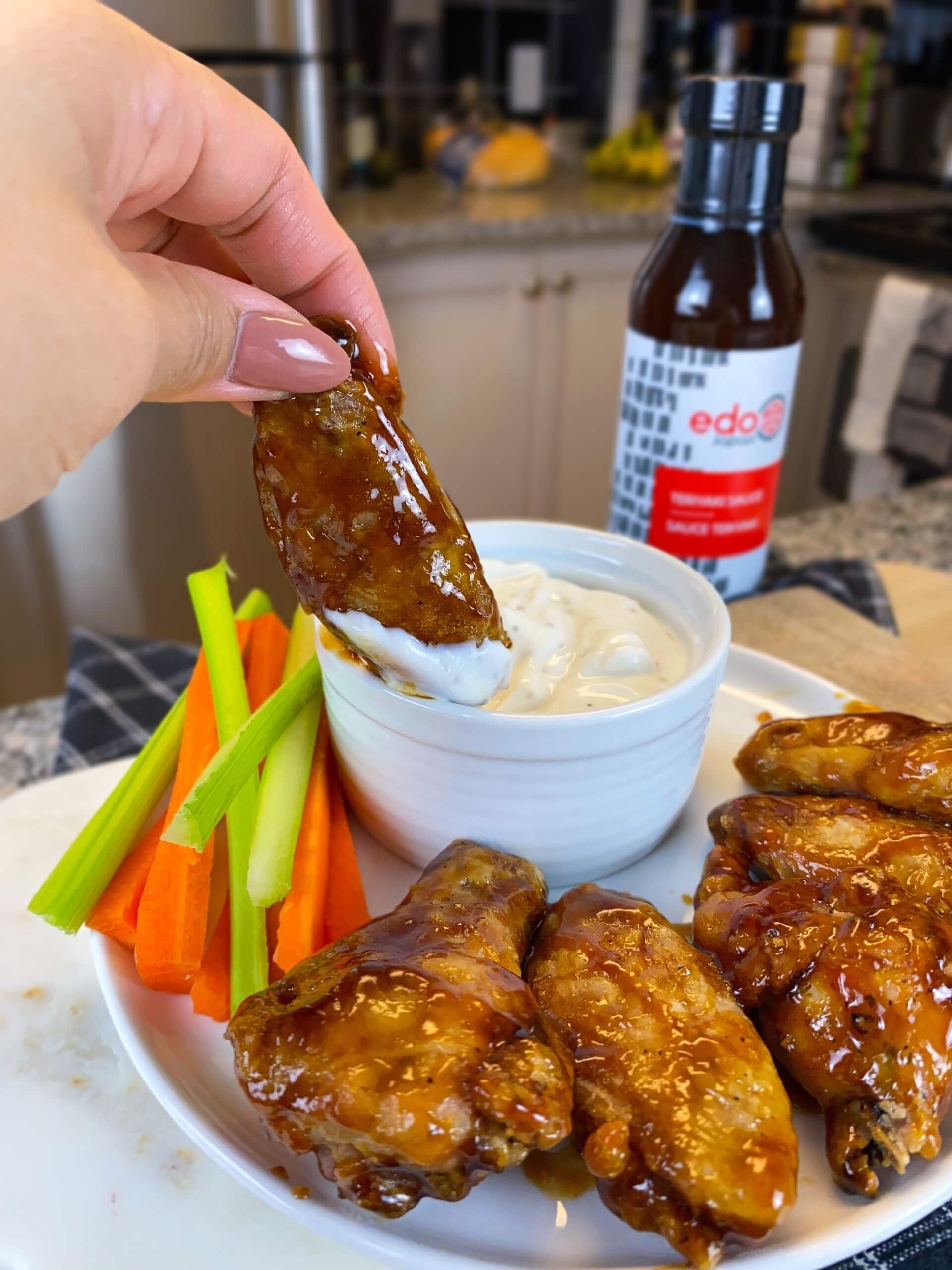 This week we partnered up with @T.Foodie_Blog to create a delicious recipe using Edo's Signature Teriyaki Sauce. Enjoy these delicious teriyaki chicken wings!
I'm a huge fan of Edo Japan and It's a must that I have their bottled teriyaki sauce at home for whipping up my own teriyaki recipes!
I just love using it to create Air Fryer Honey Teriyaki Chicken Wings. It's perfect for when a craving hits or as a good game day appetizer…it always hits the spot! Crispy, moist, tasty, and a whole lot of deliciousness is what you can expect with this one!
Not only is this recipe easy, but it's also healthier if you're using an air fryer. If you prefer your wings more traditional, this recipe also works for fried wings! The choice is up to you😊
Prep time: 15 Minutes
Cook time: 20 Minutes
Ingredients
Serving size: 2
Honey Teriyaki Sauce
1/2 Cup Edo Japan Teriyaki Sauce
1/4 Cup Honey
2 Tbsp. Corn Starch
2 Tbsp. Pineapple Juice
1 Tsp. Grated Ginger
1/2 Tsp. Garlic Powder
Coating for the Chicken
10 small chicken wings
1 tsp. Garlic Powder
1 tsp. Onion Powder
2 tsp. Baking Powder
Pinch of Salt
1/2 tsp. Black Pepper
Steps
Honey Teriyaki Sauce
In a large bowl, combine garlic powder, onion powder, baking powder, salt, and black pepper. Coat chicken thoroughly with mixture.
Lightly spray air fryer basket with olive oil, and place chicken wings in a single layer to ensure each one gets nice and crispy.
Cook at 200 degrees Celsius for 14-15 minutes, and flip halfway through.
While the chicken is cooking, in a small sauce pan, on medium heat, combine all Honey Teriyaki sauce ingredients. Be sure to combine corn starch and pineapple juice together before adding to pot to avoid clumps in the sauce.
Cook for 8-10 minutes until the sauce has thickened and starts to bubble.
Toss the chicken wings in the Honey Teriyaki Sauce. Enjoy!
Notes
You can also set aside some of the Honey Teriyaki Sauce as a dipping sauce. It goes great with fries or if you prefer extra sauce for your wings!