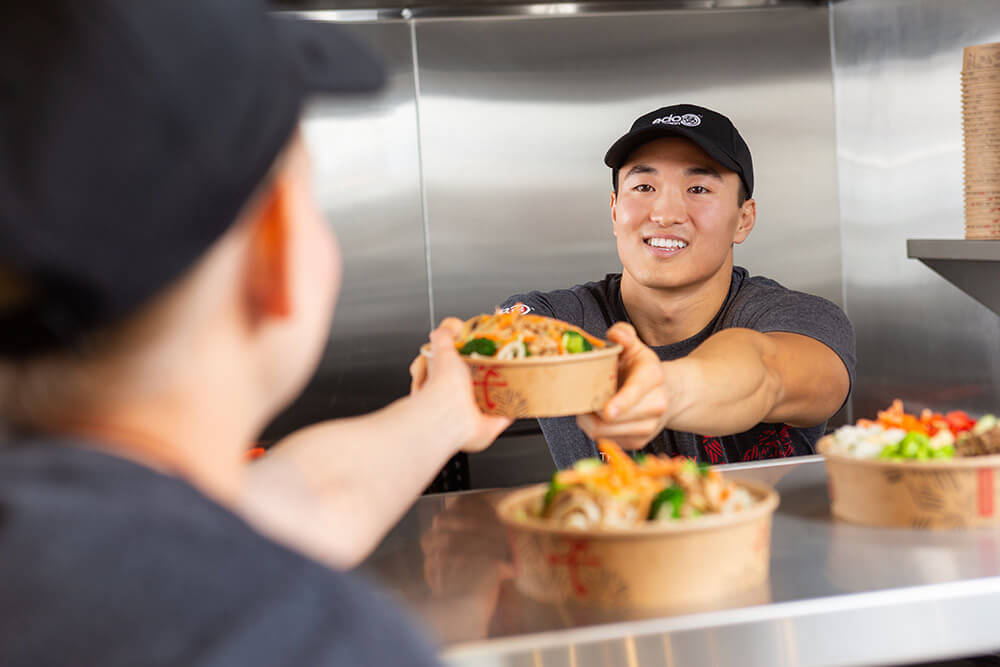 Edo's TSM is the collaborator that drives our team to create LEGENDARY guest experiences during every customer transaction! The TSM will do more than just manage. You will encourage and empower trainees, create customer experiences that make them feel valued and coordinate administrative activities in precise form to set your store up for success. You will oversee and coordinate the day-to-day operations of the business, plan, organize, train and coach to achieve stated objectives in sales, costs, employee retention, guest service and satisfaction, food quality, cleanliness, and sanitation. You got this if:
YOU are friendly, confident and possess previous restaurant experience
YOU demonstrate success in a business management environment (P&L management, food safety, sales-forecasting, recruitment)
YOU understand the importance of food safety, quality and take pride in maintaining a clean and organized environment
YOU enjoy taking a creative approach to marketing (community-engagement)
YOU have the natural ability to lead by example and motivate a diverse team
YOU understand the importance of creating Legendary Guest experiences every single day
YOU can onboard, train and evaluate new franchisees following an established training plan
YOU demonstrate knowledge of various training and coaching methods
YOU have outstanding managerial skills
YOU are a great team leader
A typical day as a Training Store Manager:
Understands all company policies, procedures, standards, specifications, guidelines, and training programs
Ensures all food/products are consistently prepared and served according to recipes, portioning, cooking, serving standards and food safety
Ensures achievement of store objectives in sales, profitability, service, quality, appearance of facility, and sanitation/cleanliness
Controls cash and other receipts by adhering to cash handling procedures in accordance with restaurant policies and procedures
Ensures execution of monthly marketing plan
Prepares all required paperwork, reports, and schedules in an organized and timely manner
Ensures all products are received in good condition, are accounted for and stored within company guidelines
Schedule labour as required by anticipated business activity while ensuring that all positions are staffed as needed and labor cost objectives are met
Continually strive to train and develop staff in all areas including managerial knowledge and professional development
Make hiring, performance management and termination decisions, ensuring prompt completion of all required documentation
Analyze financial reports and make necessary business decisions
Carry out restaurant marketing, advertising, sampling and promotional campaigns and programs
Other duties as assigned or as business needs evolve
Here's the scoop on benefits:
Diverse Culture - At Edo we are proud of our diverse and inclusive environment that enhances and reflects the communities that we work and live in
Benefit Program - Excellent Benefit Program available to you
Free Uniforms - We've got you covered with a stylish uniform and company swag
Opportunities for Advancement - Looking to climb the corporate ladder? We offer a variety of advancement opportunities for non-management, management and corporate positions
Employee Discounts - Enjoy our yummy menu items with the added bonus of an employee discount
Compensation - Above average compensation based on experience
We thank all applicants for their interest; however only those being considered for an interview will be contacted.